Organic Maple Products
Gluten Free. Vegan. Low Glycemic Index.
In New Brunswick, it can sometimes feel like no one has ever set foot where you're standing. Wild, dense forests rise to meet the sky, and moose stride confidently through ancient Appalachian foothills. We named our maple syrup 47° North because that's the latitude of our South Ridge maple farm in the Miramichi uplands, but to us it's more than a line on a map – it's a feeling. A wild, untouched sweetness that defines everything we do.
The simple process of syrup production begins with a tiny hole in one of our maples: we drill for sap, boil it, filter it, and enjoy it. That's it. Our maple products are free from gluten and lactose and are perfect for health-conscious people who care deeply about taste, but also about what they put into their bodies. From bark to barrel to your kitchen table, we take pride in being able to bottle a little taste of Canada for people across the world.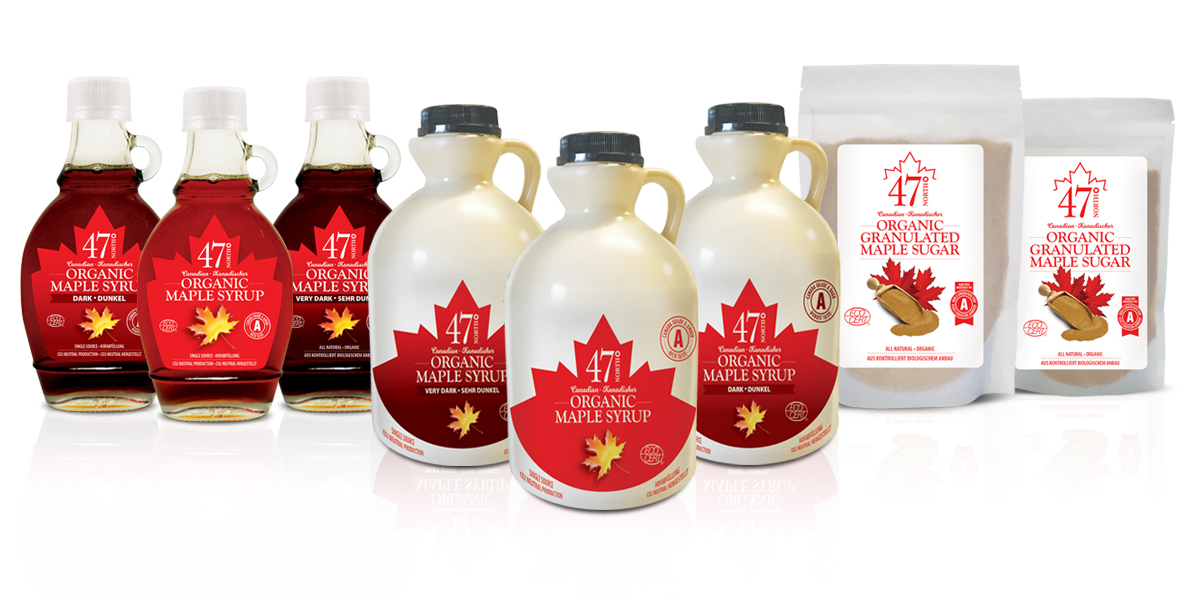 Organic Maple Syrup
Our signature organic maple syrup comes from trees growing in the pristine forests of eastern Canada. With a lower glycemic index than other sugar syrups and a rich sweetness derived from naturally occuring fructose, maple syrup is the king of sweeteners. It comes from a place where people embrace country living, and the simplicity that comes with it. And like the trees and people who produce it, our maple syrup is honest and genuine. We don't add anything to it that wasn't in the sap dripping from our trees – no sweeteners, no colours, no flavours. Just pure Canadian sweetness, from our country to yours.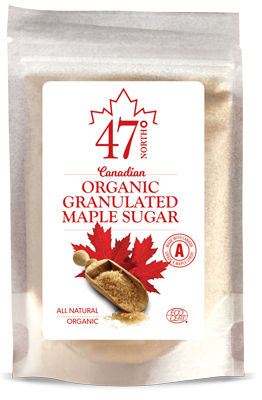 Organic Granulated Maple Sugar
An amazing natural sweetener with that irresistible maple taste, our organic granulated maple sugar is made from pure maple sap. Sprinkled over yoghurt, tossed with some berries, or used in baking as a healthier sugar alternative, our maple sugar adds a delicate sweetness with notes of caramel and vanilla. A truly natural, gourmet delight!
Maple Grading System
Canada has unified the grading system for the maple
industry to make it easier for consumers.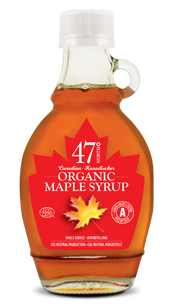 GRADE A GOLDEN
Delicate
The lightest syrup with a smooth, subtle maple flavour.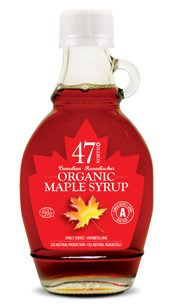 GRADE A AMBER
Rich
Classic, rich in flavour but still smooth and sweet.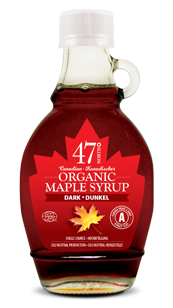 GRADE A DARK
Robust
A heartier, stronger syrup for maple-flavour enthusiasts.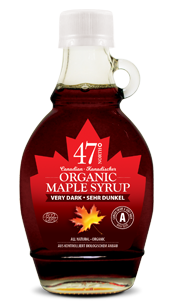 GRADE A VERY DARK
Strong
More like molasses, with the most intense maple flavour.
About Us
47° North produces premium, organic and all-natural maple products at our farm in New Brunswick, Canada.
Our name is inspired by the latitude of our South Ridge Maple Farm deep in the wilderness of this province. The terroir, characterized by the interplay between the ancient Appalachians and the sprawling Acadian forest, provides the sweetest maple sap in Canada. 47° North syrups are 100% organic with no added sugars, so all of our customers can enjoy nature's natural sweeteners that we sometimes find ourselves taking for granted.
47° North is truly a product of its locale. Few maple producers are large enough to supply enough syrup annually for one brand, and as a result, most maple syrups on the market are blends from a variety of producers, diluting the subtle regional flavours. In contrast, our syrup is never blended with the offerings of others.
The terroir of the Miramichi uplands soil in central New Brunswick imparts delicate notes of caramel and vanilla. With over 200,000 Canadian sugar maples in our forest, you get the consistency and quality of an estate bottled syrup that other bottlers simply cannot match.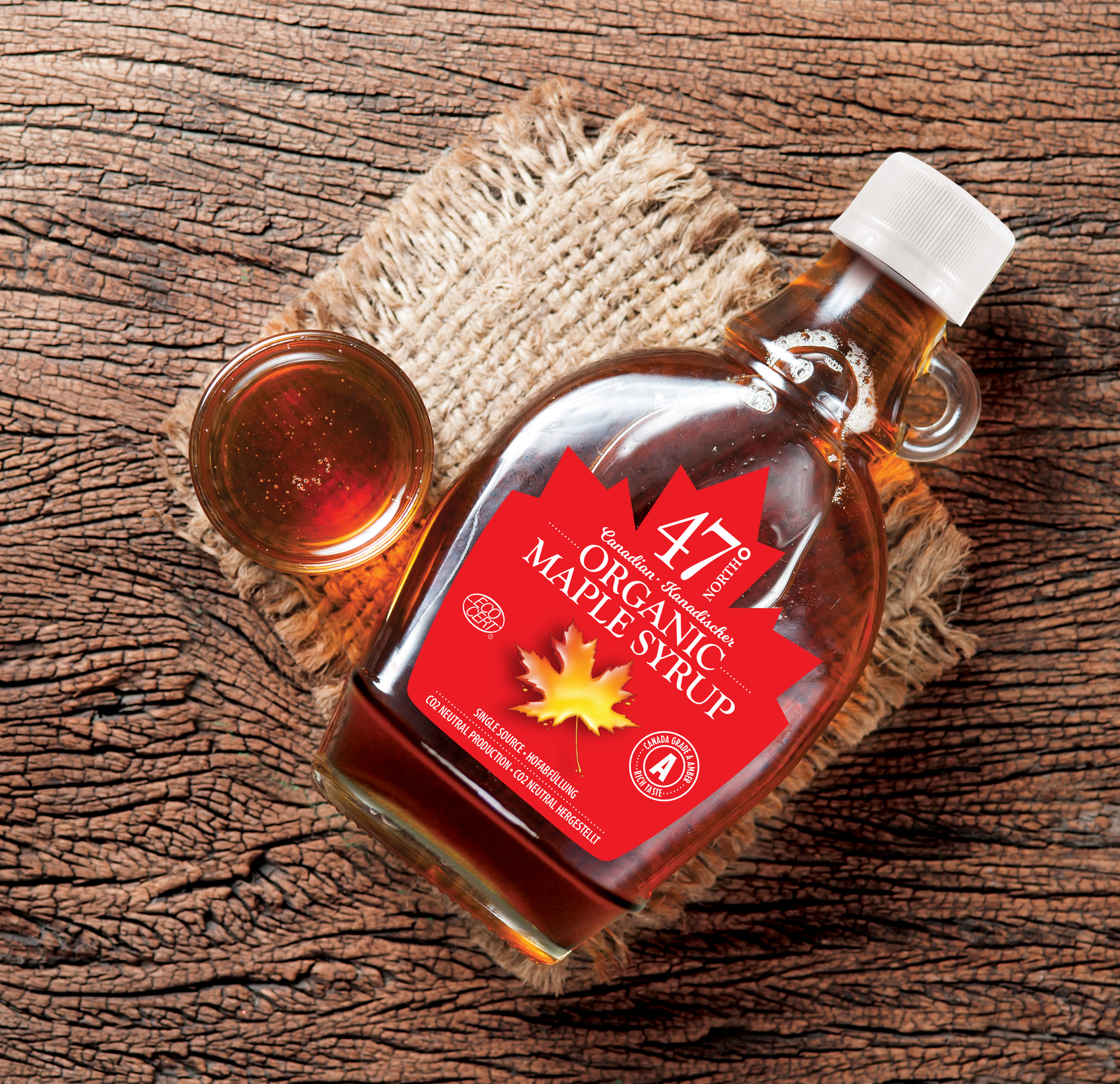 Contact 47° North - Europe
Please complete this form to contact us with questions and comments for Europe. For Canada/USA inquiries please use our North America contact form by clicking here.